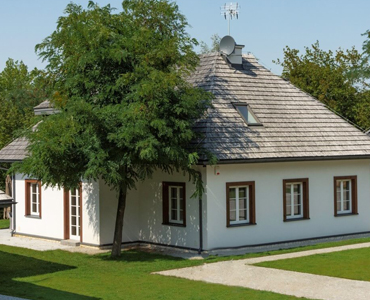 The Romantic House is the perfect solution for everyone looking for a unique atmosphere by the fireplace with a glass of wine. Do you want to surprise your friends? Are you celebrating your wedding anniversary or birthday? A romantic trip is also a perfect gift for parents. Are you dreaming of a romantic trip ?! Choose this House.
It is a paradise for people who appreciate peace, wild nature and beautiful views. Spending your vacation here, you have a unique chance to be in direct contact with nature and to breathe fresh air, which gives you energy and promotes regeneration.
Living in a separate house gives you independence and much more freedom than accommodation in traditional, large centers, hotels or guesthouses. The house consists of two floors: the ground floor and the first floor, with a total area of ​​134.19 m2.
Bedroom 1: 2 x single beds
Bedroom 2: 2 x single beds
Bedroom 3: 2 x single beds
Bedroom 4: 2 x single beds

Living-room: 1 sofa
2 bathrooms
The house has a fully equipped kitchen: dishwasher, fridge, cups, plates, a set of pots , a spacious seating area with a wood-burning fireplace. Accommodation for up to 8 people. The private terrace offers a beautiful view of the wild nature of Kazimierz Dolny.
AMENITIES AND SERVICES
Unique location surrounded by forest

10 minutes to the Market Square

Modern rooms

Access to equipped kitchen

Viewing terrace

Living room with fireplace

Living room with TV

Free Wifi

We accept pets

Free parking

24-hour contact with the reception