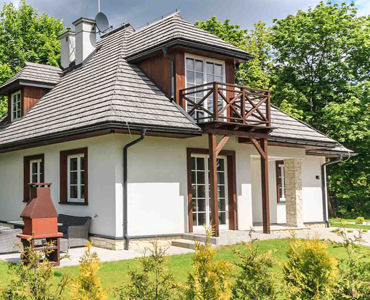 A house with a fireplace guarantees that even on cold winter evenings and mornings, the household will be warm and cozy. A frosty night is best spent under a warm duvet, sitting by the fireplace with a cup of hot chocolate and staring at the flames. In summer, relaxing by the fireplace with a glass of red wine in the presence of people important to us becomes even more extraordinary … All this makes our houses have a characteristic atmosphere, unheard of in other places.
This, combined with the beautiful views outside the window, allows you to feel the extraordinary atmosphere of ubiquitous wild nature. Living in a separate cottage gives you independence. The residents of the houses have great flexibility in spending time – they can plan their day themselves and adjust it to their own preferences.
By renting the entire house and making it a base while exploring the surroundings of Kazimierz Dolny and spending the whole day doing nothing, lying only with a book or an audiobook on the terrace of the house, we can experience a dream vacation or a free weekend.
The house consists of two floors: the ground floor and the first 1st floor, a total area of ​​139.99 m2.
Bedroom 1: 2 x single beds
Bedroom 2: 2 x single beds
Bedroom 3: 2 x single beds
Bedroom 4: 4 x single beds

Living-room: 1 sofa
2 bathrooms
The house has a fully equipped kitchen: dishwasher, fridge, cups, plates, a set of pots, a spacious seating area with a wood-burning fireplace. Maximum accommodation for 10 people. The private terrace offers a beautiful view of the wild nature of Kazimierz Dolny.
AMENITIES AND SERVICES
Unique location surrounded by forest

10 minutes to the Market Square

Modern rooms

Access to equipped kitchen

Viewing terrace

Living room with fireplace

Living room with TV

Free Wifi

We accept pets

Free parking

24-hour contact with the reception