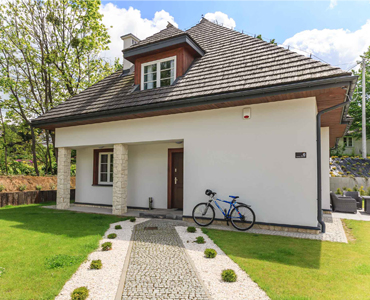 Would you like to organize a party for your friends? Or maybe a crazy birthday party? Firstly, you don't know where to put all these people in your apartment, secondly, you don't have a huge dance room. And thirdly, the most important thing – you have neighbors with small children and you respect their right to curfew.
Fortunately, you can rent a house for your own dream house, birthday or even corporate event. The main advantages of renting such places are, above all, the possibility of inviting more guests than to the apartment and the awareness that in the morning you will not have to clean up after them. And everything in the wonderful location of Kazimierz Dolny with beautiful views allows you to feel the extraordinary atmosphere of ubiquitous wild nature.
The residents of our houses have extraordinary flexibility in spending time – they can plan their day and adjust it to their own preferences.
The house consists of two floors: ground floor and first floor, with a total area of ​​160.88 m2.
Bedroom 1: 1 x double bed
Bedroom 2: 2 x single beds
Bedroom 3: 2 x single beds
Bedroom 4: 2 x single beds
Bedroom 5: 2 x single beds
Living-room: 1 double sofa, 1 three-person sofa
2 bathrooms
The house has a fully equipped kitchen: dishwasher, fridge, cups, plates, a set of pots, a spacious seating area with a wood-burning fireplace. Maximum accommodation for 10 people. The private terrace offers a beautiful view of the wild nature of Kazimierz Dolny.
AMENITIES AND SERVICES
Unique location surrounded by forest

10 minutes to the Market Square

Modern rooms

Access to equipped kitchen

Viewing terrace

Living room with fireplace

Living room with TV

Free Wifi

We accept pets

Free parking

24-hour contact with the reception